Bill on harsher punishment for in-flight brawlers reaches State Duma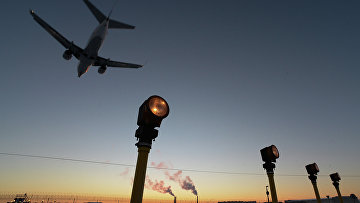 11:59 28/03/2018
MOSCOW, March 28 (RAPSI) – Russia's government has filed a bill with the State Duma proposing to toughen penalties for unlawful actions committed on board of air travel vehicles, the statement published on the official website of the government reads.
According to the bill, harsher administrative liability is to be introduced for piloting the vehicle without license, refusal to follow lawful orders of pilots and other actions.
In addition, the government proposes to classify misbehavior at any kind of public transport as an administrative violation.
In December, President Vladimir Putin signed a bill on blacklists of air passengers exhibiting aggressive behavior during flights into law.
Under the law, an airline or its representative may deny sale of tickets to a "blacklisted" person. The document reads that an aircraft pilot must write down a report containing information on incidents of disturbing behavior on board of a plane and present it to an airline's head. An additional copy of the report is to be given to a passenger.