State Duma to consider introduction of penalties for dissemination of false information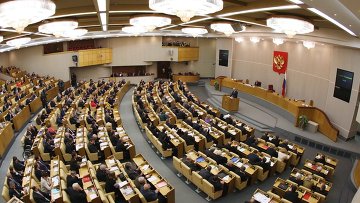 12:25 18/05/2018
MOSCOW, May 18 (RAPSI) – The State Duma is to consider a bill envisaging criminalization of the willful disobedience of court orders to stop spreading misleading information or to retract it, the electronic database of the lower house of the Russian Parliament reads on Friday.
The bill is to amend Russia's Criminal Code to the effect that willful contempt of court judgements or obstruction of their execution by a person held administratively liable for such offences within a year are criminalized. The proposed punishment is to be fines up to 50,000 rubles (about $807 at the current exchange rate), community service for up to 240 hours, corrective works for up to one month, or detention for up to one year.
Russia's Code of Administrative Offences is to be amended by the introduction of a provision penalizing noncompliance with court orders prohibiting dissemination or demanding retraction of unlawful or false information with fines ranging from 5,000 to 20,000 rubles (about $87 to $323) for individuals, from 10,000 to 50,000 rubles ($161 to $807) for officials, and from 50,000 to 200,000 rubles ($807 to $3,227) for legal entities.
The State Duma lawmakers, who have initiated the bill, note that in cases Constitutional guarantees, among them human and civil rights, are violated, administrative liability is an insufficient restraint, nevertheless, criminal penalties are to be applied only under exceptional circumstances rendering the use of other legal measures to restore social justice and to prevent further offences impossible.