Putin signs bill increasing retirement age into law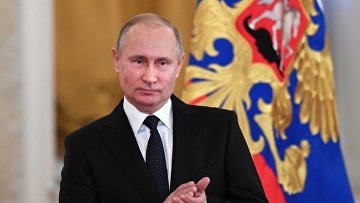 21:29 03/10/2018
MOSCOW, October 3 (RAPSI) – Russian President Vladimir Putin on Wednesday signed a pension system change bill increasing the age of retirement to 60 years for women and to 65 years for men into law, the Kremlin website reads.
Earlier today, the document was approved by the Federation Council, the upper house of Russian parliament. The State Duma adopted it on September 27.
The law also stipulates that mothers with many children would gain a right to retirement at 50-57 years. A labor experience term enabling to retire on a pension earlier would be lowered, from 45 to 42 for men, and from 40 to 37 for women.
Unemployment allowance is to be increased for persons nearing retirement age starting 2019.
On July 19, the State Duma passed the pension system bill in the first reading. Initially, the document, which was suggested in mid-June by the government, provided a gradual increase in the retirement age from 60 to 65 years for men and from 55 to 63 years for women.
The President issued a set of suggestions on the pension system change on August 29. Putin proposed to lower the women's retirement age to 60 years. Moreover, he made several proposals aimed to strengthen guarantees for persons nearing retirement age, in particular to protect them from discrimination and dismissal without a valid reason.
On Wednesday, Putin also signed a bill on punishment for unjustified denial of employment and dismissal of persons nearing retirement age into law. The document stipulates fines of up to 200,000 rubles (about $3,000) or in the wage amount for a period covering 18 months at the most, or community service for up to 360 hours for unjustified denial of employment and dismissal of such persons.