Russian senators on track to protect state institutions from online insults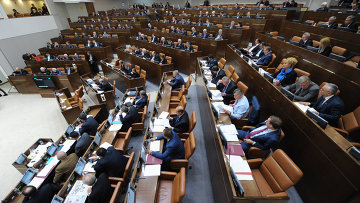 15:22 13/03/2019
MOSCOW, March 13 (RAPSI) – The upper house of Russian parliament backed a draft law allowing blocking of websites containing defamatory information insulting society, state symbols and state bodies on Wednesday.
On Tuesday, the Federation Council's Committee on Constitutional Legislation and State Building recommended that senators approve the document.
The State Duma, Russia's lower house of parliament, passed the legislative proposal in the third and final reading on March 7.
Amendments would be made to the Federal Law on Information, Information Technology and Information Protection and the Administrative Offences Code.
Under the provisions, Russia's Prosecutor General and his deputies would be entitled to apply to the communications agency Roskomnadzor with requests to block websites breaking legislation.
Moreover, the amendments envisage fines from 30,000 rubles (about $455) to 100,000 rubles ($1,500).
In case the offence is committed for the second time, it is to be punishable with fines from 100,000 rubles to 200,000 rubles ($1,500 – 3,000), or administrative detention for up to 15 days. Repeated violations are to be punished with fines ranging from 200,000 rubles to 300,000 rubles ($3,000 – 4,500), or administrative detention for the same term.