Human Rights Council Chair submits proposals to Working Group on Constitution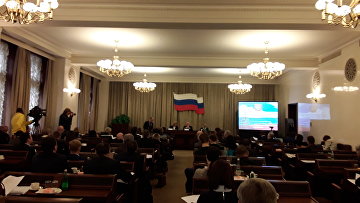 12:55 12/02/2020
MOSCOW, February 12 (RAPSI) – The Chairman of Russia's Presidential Human Rights Council Valery Fadeyev has sent the proposals developed by human rights advocates to the working group on drafting proposals for amendments to the Constitution, the press-service of the advisory body informs on Wednesday.
The members of the Council have prepared a large package of proposals including those aimed to upscale support to families, to strengthen and protect this institution, as well as suggestions to broaden the range of objects under joint jurisdiction of the federal and regional authorities, including mechanisms facilitating the development of entrepreneurial activities and assisting organization and improvement of public control, Deputy Council Chair Irina Kirkora notes.
The package is addressed to the Chair of the State Duma Committee on State Building and Legislation Pavel Krasheninnikov, who is co-chairing the Working Group on Constitution.