Ombudsman Moskalkova takes part in Constitution amendments voting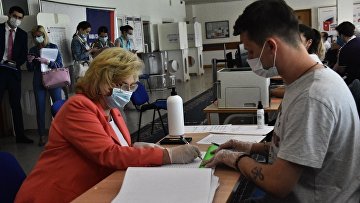 14:10 29/06/2020
MOSCOW, June 29 (RAPSI) – Russia's High Commissioner for Human Rights Tatiana Moskalkova took part in the voting on the Constitution amendments on Monday.
According to Moskalkova, amendments to the Russian Constitution raise matters of social guarantees, strengthening of moral hinge and state form to a much higher level, give an opportunity for the progressive development.
Moskalkova believes most important changes are those related to the pension indexation and wage guarantees.
On June 25, the All-Russian voting on amendments to Constitution started in the country and abroad. The main voting day, according to the presidential decree, is July 1; however, citizens may also vote from June 25 to 30. Residents of Moscow and Niznny Novgorod have an opportunity to vote online.