Main Constitution amending vote day begins in Russia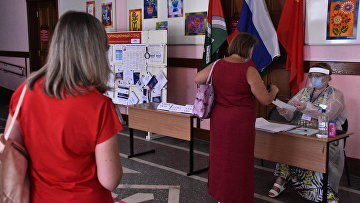 10:47 01/07/2020
MOSCOW, July 1 (RAPSI) – On Wednesday, July 1, election stations opened for the voting on Russia's Constitution amendments.
The election commissions' members fix high turnout, according to the reports of regional media.
On the evening on June 30, e-voting available to residents of Moscow and Nizhny Novgorod finished. Over 1 million applications for the distance vote were filed by Muscovites and nearly 140,000 by residents of Nizhny Novgorod. The online poll turnout reached 93.1%.
On June 25, the All-Russian voting on amendments to Constitution started in the country and abroad. The main voting day, according to the presidential decree, is July 1; however, citizens may also vote from June 25 to 30. Residents of Moscow and Niznny Novgorod have an opportunity to vote online.
As of June 30, about 50 million Russian nationals have already taken part in the Constitution amendments voting.