State Duma amends Civil Code as concerns state registration of intellectual property rights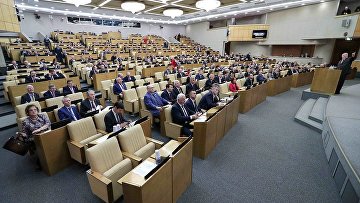 18:13 21/07/2020
MOSCOW, July 21 (RAPSI) – The State Duma has approved in the third and final reading amendments to Russia's Civil Code concerning the state registration of intellectual property rights, according to a statement on the official website of the lower house of Russia's Parliament.
The document envisages that the Russian Federal Service for Intellectual Property, Rospatent, is to be empowered to engage in the protection of the results of intellectual activities, either directly or through subordinated agencies.
Currently Rospatent employs federal publicly funded institution Federal Institute of Industrial Property to carry out preliminary works enabling it to carry out legal protection of the results of intellectual activities; the new law is to prevent and settle certain overlap issues the two organizations encounter in their practical work.
The Federal Institute also provides information search services relating to patent claims; it is envisaged that such a preliminary search for information and evaluation of patentability of technical solutions is to be conducted by Russian scientific and educational establishments accredited with Rospatent; it is to be up to applicants to ask for such a service, the payment for which is to be determined by the accredited organizations proceeding from its complexity, amount and time it requires to accomplish.
The Russian Government is to be empowered to set forth the number of patent claims free of patent tax submitted by one applicant within a year.
The new regulations with a few exceptions are to be put in effect a year after the law is officially published.