Russian Supreme Court to submit new criminal misdemeanor bill to lower house of parliament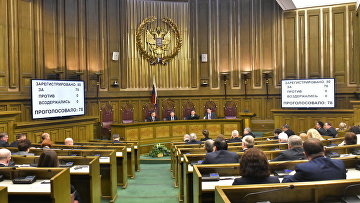 12:11 09/10/2020
MOSCOW, October 9 (RAPSI) – The Supreme Court of the Russian Federation plans to bring a new bill on criminal misdemeanor before the State Duma, the lower house of parliament, RAPSI was told in the court.
Amendments are expected to be added to the Criminal and Criminal Procedure Code because of introducing the concept of misdemeanor.
This summer, the lower house of parliament considered the Supreme Court's bill fixing the term of a criminal misdemeanor. The Supreme Court of Russia filed a draft law introducing a new concept, criminal misdemeanor, to the Criminal Code and Criminal Procedure Code, with the State Duma in December 2018. According to the initiative, a criminal offense of a low gravity, which can't result in a prison term, is to be considered as a criminal misdemeanor.