State Duma backs harsher punishment for unlawful pre-election campaigning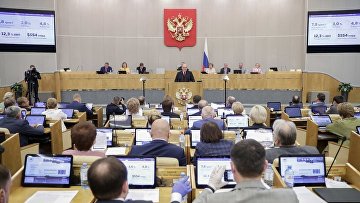 14:14 16/02/2021
MOSCOW, February 15 (RAPSI) – Lawmakers of the lower house of Russia's parliament have supported in the second reading legislative amendments, which will permit to block dissemination of pre-election campaign materials where it is done in violation of law, according to a statement published on the State Duma official website.
The proposed amendments envisage that the Central and regional Election Commissions are to be empowered to turn to Russia's media watchdog Roskomnadzor demanding it to put an end to such dissemination; owners of the resources engaged in unlawful publication of such election campaign materials are to be given 24 hours to voluntary remove the unlawful content.
The measure is to be introduced to clamp down on planned illegally financed actions, since according to the legislation all financing needs to be carried out via campaign coffers. Nevertheless, any respective decision is to be carefully weighed, Central Election Commission Secretary Maya Grishina commented addressing the Coordination Council on Public Control over Voting at the Civic Chamber.
MPs have also backed amendments to the Code of Administrative Offences envisaging stricter administrative liability for violations of the rules governing pre-election campaigning.
When failing to comply with the pre-election silence rules, citizens are to be fined 5,000 to 25,000 rubles ($70 to $340 at the current exchange rate); at present the respective amounts make 1,000 to 1,500 rubles ($14 to $200); officials are to be fined 30,000 to 50,000 rubles ($400 to $680), currently 2,000 to 5,000 rubles ($30 to $70); corporations are to be fined 100,000 to 500,000 rubles ($1,400 to $7,000), at present the respective fines make 20,000 to 100,000 rubles ($270 to $1,400). Similar fines are envisaged for making and placing campaign materials in violation of the election law.