Russia waits for reply from U.S. on its principled demarche over Bout case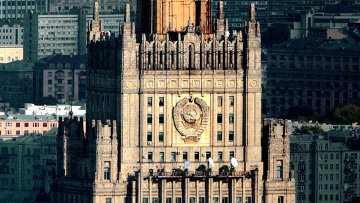 17:30 11/11/2011
MOSCOW, November 11 - RAPSI. Moscow is waiting for a reply of the United States to its "principled demarche" in the case of Viktor Bout, a Russian citizen convicted in the United States, Russian Foreign Ministry's envoy on human rights, democracy and rule of law Konstantin Dolgov told RIA Novosti on Friday.
Bout was arrested in Thailand and extradited to the United States.
The jury returned guilty verdicts on all four accounts of a conspiracy to kill Americans and U.S. officials, the illegal acquisition and export of surface-to-air missiles, and the support of terrorism by cooperating with the Colombian FARC guerrilla organization. The court is expected to pass a sentence against Bout on February 8. He faces from 25 years to life in prison.
On Thursday, Dolgov discussed Bout's future with the U.S. Embassy in Moscow. Russia confirmed its "principled position" on the illegality of Bout's extradition from Thailand to the United States. Special attention was paid to Bout's worsening confinement conditions.
Dolgov said that Russia declared its position and the U.S. embassy promised to convey it to the U.S. administration.
"When we get the answer, we will comment on it," Dolgov added, replying to the request to comment on the statement made by Under Secretary of State Wendy Sherman in her interview to the Echo of Moscow radio station.
Sherman said there are no legal grounds to extradite Bout to Moscow.