Russia wants to deprive Cravers of parental rights to Russian girl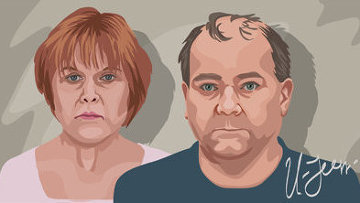 13:46 29/11/2011
MOSCOW, November 29 - RAPSI. Alexander Bastrykin, Chairman of the Investigative Committee, requested Mikhail Fedotov, Chairman of the Presidential Council for Civil Society Institutions Development and Human Rights, and Vladimir Lukin, Russian Commissioner for Human Rights, to assist in the investigation of the murder of seven-year-old Russian boy in the United States.
Nathaniel Craver (Vanya Skorobogatov) died on August 24, 2009 in a U.S. hospital from a head injury. The numerous other injuries on his body should be considered torture, the prosecution said during the trial. Doctors found over 80 injuries on the boy's body.
The Court of York County, Pennsylvania, sentenced the Cravers on November 18 to 16 months in prison for involuntary manslaughter in their adopted son's death.
However, they were released immediately after the trial as they had spent over 1.5 years in prison.
The seven-year-old boy's death sparked public outrage in Russia and the United States.
The Foreign Ministry expressed outrage over the sentence and called it inadequate.
After the "provocatively lenient" sentence, Investigative Committee head Alexander Bastrykin issued instructions "to accelerate the investigation in order to strengthen the evidence of the Russian boy's premeditated murder committed with grave cruelty," the committee reported.
The appeal to issue an arrest warrant for the Cravers in absentia was filed by the Russian Investigative Committee. The committee also placed the couple on the international wanted list.
Bastrykin wrote that many Russians do not agree with the American court's decision to release the Cravens.
Bastrykin asked heads of Russian human rights organizations for assistance in implementing all mechanisms provided by Russian laws to prosecute the Cravers.
He also proposed Lukin and Fedotov to assist in overruling the court's decision on the adoption of Vanya and Dasha Skorobogatov to deprive the Cravers of their parental rights regarding Dasha. This will allow returning Vanya's sister to Russia, the report reads.
The girls' relatives, who live in Russia are ready to take care of her.