Tymoshenko moves to European-standard prison hospital ward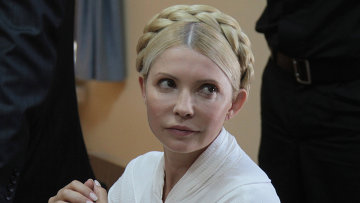 10:21 30/11/2011
KIEV, November 30 - RAPSI. Former Ukrainian Prime Minister Yulia Tymoshenko was transferred to a pretrial detention center's European-standard medical unit for medical treatment, the Ukrainian penitentiary service reported Tuesday night.
A Kiev district court sentenced Tymoshenko to seven years in prison for abuse of power in signing gas contracts between Ukraine's Naftogaz and Russia's Gazprom in 2009.
The sentence has been appealed.
Ukrainian President Viktor Yanukovych said on Monday that he ordered to create European-level custody conditions for Tymoshenko.
Following a medical check-up in a Kiev clinic on November 23, the Health Ministry's commission recommended to continue Tymoshenko's medical treatment in a pretrial detention center.
Doctors have not found any life-threatening abnormalities. However, her lawyers insist that Tymoshenko's condition have been deteriorating and prison doctors are only administering pain-killers.
Earlier, Tymoshenko was moved to another prison cell because of repair works, but her defense said the cell is so cold that the former prime minister can stay there only dressed warm.
The penitentiary service also said that in doctors' opinion Tymoshenko's health has not worsened over the recent several days and corresponds to her diagnosis without specifying what she had been diagnosed with.