Nazi hunter determined to bring Lazslo to swift justice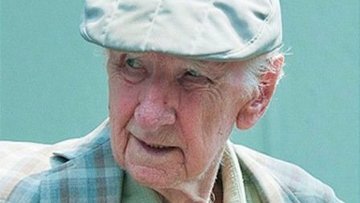 13:29 20/07/2012
MOSCOW, 20 Jul – RAPSI, Ingrid Burke. Activists are not above exerting pressure on the Hungarian judicial system in ensuring that accused 97-year-old Nazi war criminal Lazslo Czatary is brought to swift justice, chief Nazi hunter Dr. Efraim Zuroff of Operation Last Chance (operationlastchance.org) told RAPSI on Friday.
Speaking to RAPSI from Jerusalem, Zuroff explained that, "the only thing we can do is help make [the trial against Czatary] happen and that means finding evidence, finding survivors testimonies, and… it might mean creating pressure on the judicial system to bring the expedited trial. Our concern is that this will be dragged out and it will never be brought to justice. That's our concern."
Zuroff was unwilling to disclose a specific strategy based on his concern that Hungarian prosecutors might read this article. He made clear that neither he nor his organization have standing in the case, but that he is determined to do all that is in his power to bring Czatary to justice as quickly as possible. "We want an expedited prosecution… based on his age," Zuroff explained.
When asked about how he would like the case to pan out, Zuroff explained that at the moment, his primary concerns are ensuring that Czatary will be made to stand trial and will then be convicted. "Obviously at that point it will have to be assessed whether he's capable [of being] incarcerated or not," he added.
Nonagenarian Laszlo Czatary was taken into custody Wednesday and charged with war crimes he is alleged to have committed as a Nazi during World War II. Czatary's arrest followed shortly after Zuroff presented Hungarian prosecutor Dr. Gabor Hetenyi with new evidence against the suspect, according to the Simon Wiesenthal Center, a global Jewish human rights organization and co-sponsor of Operation Last Chance.
According to the Simon Wiesenthal Center, "[b]etween 1941-1944, [the suspect,] a senior police officer, beat, brutalized and sent 16,000 Jews to their deaths in the Ukraine and Auschwitz." Zuroff specifically submitted new evidence last week relating to the key role Czatary allegedly played in deporting approximately 300 Jews from the Slovakian city of Kosice to Ukrainian concentration camp Kamenetz-Podolsk in 1941.
The center claims that Czatary was convicted in Czechoslovakia in absentia in 1948 and has spent years in hiding between Canada and Hungary.
While some sympathize with Czatary due to his advanced age, the Hungarian authorities are obligated to bring the suspect to justice. Having ratified and acceded to the UN Convention on the non-applicability of statutory limitations to war crimes and crimes against humanity in 1969, Hungarian authorities have adopted the theory that it is never too late to prosecute war crimes, even after the passage of nearly seven decades.