Pussy Riot video may have been leaked by jailers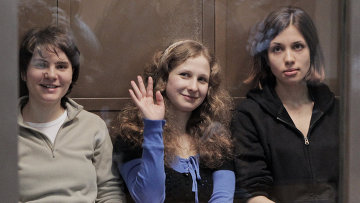 15:24 11/10/2012
MOSCOW, October 11 - RAPSI. The Federal Penitentiary Service will look into where media obtained a video from the pretrial detention center where the Pussy Riot members are presently being held.
"The investigation will investigate who made the recording and with which device," a source told RAPSI. "The probe could take from three to four weeks."New Times has published on its website a video of Nadezhda Tolokonnikova and Maria Alyokhina in their cells. According to the service, mobile phones and any other video recording devices are prohibited in jails. A recording can only be made with the consent of the investigators and the prisoners.
New Times stated that the detention center's employees filmed Pussy Riot during their meetings with the Public Supervisory Commission. The video was later leaked to the press.
The source has explained that Moscow jails are equipped with video cameras. In addition, escorting officers have video recorders on their chest.
"If the detention center's employees are found to have been involved in the unlawful dissemination of the video, they will be punished accordingly," the source added.
In late February, five young women wearing brightly colored balaclavas performed a "punk-style" prayer at the altar of Moscow's Christ the Savior Cathedral. An edited video of their performance was posted on the Internet and caused a public outcry.
The Moscow City Court commuted Pussy Riot member Yekaterina Samutsevich's disorderly conduct sentence on Wednesday from two years in a prison colony to immediate release on probation during the group's appeal of its collective sentence for disorderly conduct motivated by religious enmity. The judge left the sentences of Tolokonnikova and Alyokhina unchanged.
In the first instance, the Khamovnichesky District Court in Moscow sentenced the Pussy Riot members to two years in prison on August 17.