Clash over Pussy Riot brand bursts out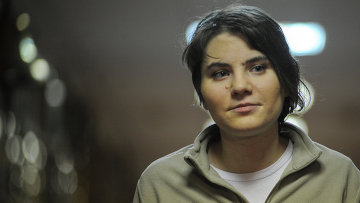 11:53 02/11/2012
MOSCOW, November 2 - RAPSI. A conflict has arisen between Pussy Riot band member Yekaterina Samutsevich and the group's trial attorney Mark Feygin over the commercial use of the Pussy Riot brand, Kommersant daily reports.
On April 4, 2012, Kinokompaniya Veb-Bio (Veb-Bio film company) filed an application with the Federal Service for Intellectual Property, Patents and Trademarks to register the band's name as a trademark. The company is owned by Natalya Kharitonova, Mark Feygin's wife. The application is currently being processed.
As soon as registration is completed, the company will have the right to produce pens, clothes, toys and videos featuring the Pussy Riot brand.
Kommersant newspaper reported that a contract to film a movie called "Show Trial. The Pussy Riot Story" has already been signed by European film company Roast Beef Productions Ltd. and Kinokompaniya Veb-Bio. The latter has already been paid $30,000. It will then receive a further $170,000 and 40 percent of the proceeds from the global sales of the video content.
In October, Live Nation, a major promotion company, proposed holding a Pussy Riot world tour as soon as the two convicted members are released. It was suggested that the tour would bring in 600 million in profits.
But freed Pussy Riot member Yekaterina Samtusevich believes that the commercial use of their name is contrary to the group's ideology, which was always planned as a punk rock project.
Samutsevich is demanding that Mark Feygin give up his rights to the band's trademark. Speaking with Kommersant correspondent, Sergei Badamshin, Samutsevich's current attorney confirmed that he was discussing the issue of rights and use of the brand with her," but refused to disclose any details, citing the attorney-client privilege.
Feygin said that he has nothing to do with the Pussy Riot brand.
In late February, five young women wearing brightly colored balaclavas performed a "punk-style" prayer at the altar of Moscow's Christ the Savior Cathedral. An edited video of their performance was posted on the Internet and caused a public outcry. Shortly thereafter, three of the women were arrested and stood trial.
The Khamovnichesky District Court sentenced three Pussy Riot members to two years in prison on August 17.
Samutsevich was formerly represented by Feigin, along with the other two arrested group members Nadezhda Tolokonnikova and Maria Alyokhina. During the group's recent appeal of its sentence, Samutsevich severed ties with Feigin and her original defense team.
Following the appeal, the Moscow City Court commuted Samutsevich's sentence from two years in prison to immediate release on probation, due to the fact that she was detained by security prior to reaching the stage, and therefore did not participate in the punk rock prayer.