Polish chief editor canned over claims of foul play in presidential plane crash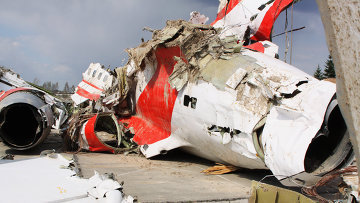 12:43 06/11/2012
WARSAW, November 6 - RAPSI, Yevgeny Bezeka. Tomasz Wroblewski, editor-in-chief of the influential Polish daily Rzeczpospolitahas been fired along with correspondent Cezary Gmyz and two other staff members over an article published claiming that traces of explosive devices were found in the wreckage of the airplane that crashed while carrying Polish President Lech Kaczynski.
The article reporting the discovery of traces of TNT and nitroglycerine found format the crash site just outside of Smolensk was published last Tuesday and incited a great stir among Polish politicians.
The Polish newspaper reported that during a second inspection of the wreckage, experts from the prosecutor's office found traces of TNT and nitroglycerine on 30 passenger seats and in the sections where the plane's wings connected with the fuselage. Remnants of explosives were also reported to have been found on the ground.
This claim does not correspond with the official version of the investigation; the day it was released, the military prosecutor's offices denied the data published in the newspaper.
Wroblewski, Gmyz and head of the newspapers Polish department Mariusz Staniszewski have all had their contracts terminated; likewise, Deputy editor-in-chief Bartosz Marczuk will be fired as soon as the termination period in his contract expires, Wyborcza daily reported.
Rzeczpospolita has published a statement claiming that responsibility must be taken for mistaken decisions, hence the reason for these dismissals.
The opposition believed the story was a provocation against the authorities and aimed at discrediting the head of the Law and Justice political party Jaroslaw Kaczynski, according to the Newsweek magazine.
Polish President Lech Kaczynski died in the crash on April 10, 2010, when the Polish Air Force Tu-154 attempted to land at Smolensk-North airport in Russia. 96 people died, including the president, his wife, and a number of the country's key officials.
The Interstate Aviation Committee (IAC) issued a final report in late July 2011 stating that the crash was caused by the crew's attempt to land in thick fog in conditions of poor visibility. Additionally, the IAC said the poor flight preparation and the inadequately qualified crew were the root cause of the tragedy.