Police to toughen gun control regulations after Moscow massacre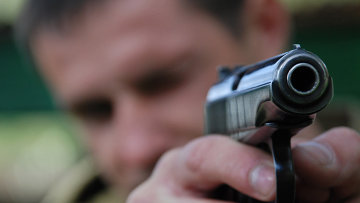 13:03 08/11/2012
MOSCOW, November 8 - RAPSI. Amendments which tighten the regulations for carrying weapons may be approved in the near future in response to a recent incident in Moscow where a 30-year-old lawyer shot dead five of his colleagues, Izvestia daily reported, citing the head of the licensing service of the Interior Ministry Leonid Vedenov.
The newspaper reported that the draft amendments to the law "On Weapons" will be submitted to the Interior Ministry's administration.
"We have proposed banning the bearing of weapons, in particular traumatic weapons, while being in a state of alcohol intoxication," he told the newspaper. The Interior Ministry has suggested introducing administrative or criminal liability for the violation of the provision, depending on the gravity of the consequences.
Furthermore, the Interior Ministry is going to prohibit the bearing of any weapons in public places, the newspaper reports. It is also planned to increase the age limit for acquiring a weapon from 18 to 21 and to introduce an obligatory test fire for all kinds of weapons, which will allow the owner of the weapon to be quickly established from any empty cartridge.
In addition, the Interior Ministry is determined to toughen responsibility for all violations of the rules for buying and selling weapons.
On November 7, a lawyer in a Moscow pharmaceutical company, fresh from a five-day drinking binge, opened fire from two automatic shotguns on his colleagues while they were sitting at their desks. He killed five and injured two.
The perpetrator, identified as Dmitry Vinogradov, 30, is said to have published an online manifesto not long before his attack in which he declared his "hatred for humanity".