Madonna had no legal right to receive payment for Russian shows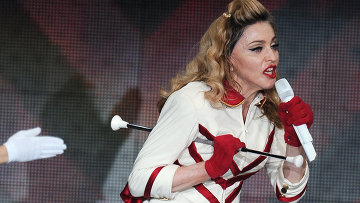 11:42 16/04/2013
MOSCOW, April 16 - RAPSI. The Russian visa which Madonna was issued in summer 2012 only allowed her to participate in non-commercial concerts, Izvestia newspaper writes on Tuesday.
Madonna gave two concerts in Russia last year - on August 7 in Moscow, and on August 9 in St. Petersburg. Members of the St Petersburg public filed lawsuits against the singer and concert organizers after Madonna spoke out for gay rights at the August 9 concert. In November 2012, the St. Petersburg Court dismissed all the nine suits worth a total of 333 million rubles ($10.6 million).
Local MP Vitaly Milonov also requested that the Foreign Ministry check the legality of Madonnas entry into Russia.
According to Izvestia, the Foreign Ministry replied that Madonna was issued a single-entry visa valid for three months at the invitation of the Culture Ministry and with the purpose of her visit stated as "cultural ties."
"Invitations and visas for the purpose of cultural ties are issued to foreigners who come to Russia to develop cultural cooperation and to participate in non-commercial art exhibitions, festivals and guest performances," the Foreign Ministry wrote in the letter which Izvestia cited.
"If a foreign national's activity in Russia is aimed at making a profit, including through commercial performances, the said national must receive a work permit from the Federal Migration Service, and therefore must be issued a normal work visa, with the purpose of the visit stated as work for hire," the document reads.