Putin offers help with Boston bombings investigation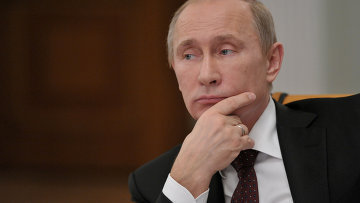 15:06 16/04/2013
MOSCOW, April 16 – RAPSI. Russian President Vladimir Putin offered Russia's assistance on Tuesday in the investigation of the Boston Marathon bombings that killed three on Monday and left more than 140 injured.
Putin sent a telegram to his US counterpart Barack Obama expressing his condolences, and said "Russia is ready to help the US authorities with their investigation if necessary," the Kremlin said on Tuesday in a statement on its website.
"Putin strongly condemned this barbarous crime and expressed his conviction that the fight against terrorism requires the active coordination of efforts by the global community," the statement said.
Prime Minister Dmitry Medvedev has sent his condolences to US citizens after the Boston Marathon bombing, which he described as a monstrous crime.
"The terrorist attack in Boston is a monstrous crime," Medvedev wrote on his Facebook page. "It is especially cynical because it was committed during the traditional Boston Marathon - a festive sports event that gathers people from all over the world, including Russia. We can only stand up against this together.
"On behalf of the Russian government and all Russian people, I offer condolences to US citizens," he said. "We feel deeply for those whose relatives and friends were killed and wish a speedy recovery to the injured people. We are with you."
Three people were killed on Monday and 144 injured – 17 of them critically – after two powerful explosions ripped through a crowd near the finish line of the Boston Marathon.
It is not yet clear who was responsible for the bomb attacks or the motive.
Obama vowed on Monday evening that those responsible for the blasts would be tracked down and punished, saying they would feel the "full weight of justice."
The FBI has taken charge of the investigation into the bombings, US media reported on Tuesday.
The Boston Marathon bombings present a "clarion call" for Russia ahead of three global sporting events over the next year, Russian Sports Minister Vitaly Mutko told R-Sport on Tuesday. Ahead of next year's Sochi 2014 Winter Olympics, Russia hosts the Universiade in Tatarstan in June, followed by the world athletics championships in Moscow in August.
"For Russia, which is about to stage a lot of large-scale events, this is a serious clarion call," Mutko told R-Sport. "Of course, we will toughen up our security measures," he added, echoing the sentiments of Russia's athletics chief Vyacheslav Balakhnichev, who vowed heightened security would be in place at the August 10-18 championships at Luzhniki stadium.