Georgian president suspected of spending budget funds on Botox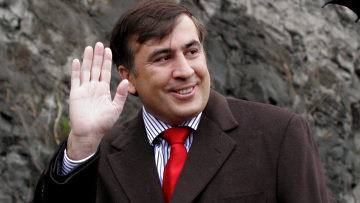 15:07 31/05/2013
TBILISI, May 31 (RAPSI, Maggie Kikaleishvili) - Georgian President Mikhail Saakashvili may be summoned to the prosecutor's office for questioning about the suspected use of national budgetary funds for Botox injections, Prosecutor's Office Press Secretary Khatuna Paichadze said on Friday.
On Friday, the Georgian TV company Imedi made public documents according to which Saakashvili paid $5,600 for Botox injections at a New York hospital in 2009 and $5,800 in 2011. He also allegedly paid $4,500 for a US businesswoman to stay at the Radisson Blu Iveria Hotel in Tbilisi. He supposedly bought her sport shoes and paid $9,000 for her nude portrait.
Some time ago, the parliamentary majority accused the president of dipping into the Special State Protection Service budget to pay for his entertainment, family and friends.
MP Irma Imerlishvili said that "the Georgian people paid about half a million Lari ($300,000) for Saakashvili's Spanish chef," around $150,000 for his Christmas trip to Dubai, around $70,000 for a weight loss program at an expensive resort where he went together with Tbilisi Mayor Gigi Ugulava, and hundreds of thousands of dollars for the visits of foreign guests and presents for them.