Moscow Bar Association finds violations of practice by former Pussy Riot lawyer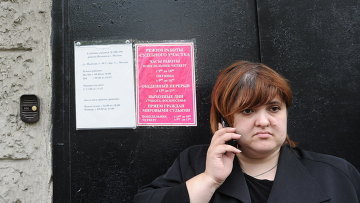 15:12 10/06/2013
MOSCOW, June 10 (RAPSI) - The Board of the Moscow Bar Association has uncovered violations in the legal practice of Violetta Volkova, the former lawyer of Pussy Riot member Yekaterina Samutsevich, Volkova tweeted on Monday.
Samutsevich has complained to the board, asking it to penalize the lawyer for providing substandard service.
"The board spotted two violations. I defended Samutsevich free of charge and I did not charge her any money," Volkova said. "Furthermore, they believe that Samutsevich required an individual defense plan because her interests differed from those of Tolokonnikova and Alyokhina."
The board will pass a decision on Volkova's penalty on July 17.
This is the second time that Samutsevich complained to the association. She canceled her first complaint after Volkova agreed to supply her with the necessary documents to file an application with the European Court of Human Rights, Samutsevich said. Her second complaint was lodged in April.
In February 2012, five young women wearing brightly colored balaclavas staged a punk rock prayer in Moscow's Christ the Savior Cathedral. An edited video of their performance was posted on the Internet and caused a public outcry.
In August 2012, the Khamovnichesky District Court in Moscow sentenced Samutsevich and two other Pussy Riot members - Nadezhda Tolokonnikova and Maria Alyokhina - to two years in a prison settlement for hooliganism.
In October 2012, the Moscow City Court changed Samutsevich's verdict to a suspended sentence and released her immediately based on her new attorneys' argument that she had been seized by security guards prior to reaching the altar.
The sentences of Alyokhina and Tolokonnikova were upheld. In April 2013, the Zubova Polyana District Court in Mordovia rejected Tolokonnikova's request for parole. Alyokhina's request for parole was rejected by the Berezniki court on May 23.
The three women were represented in court by Volkova, Nikolai Polozov and Mark Feygin. Shortly before her appeal was considered by the court, Samutsevich rejected Volkova's services. Tolokonnikova and Alyokhina also replaced their lawyers later when they were already in prison.