Pussy Riot's Alyokhina 'enjoys privileged conditions' in prison - observers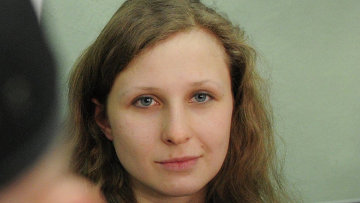 14:14 11/06/2013
PERM, June 11 (RAPSI) - The Public Oversight Commission in the Perm Territory has not found any evidence confirming Pussy Riot member Maria Alyokhina's complaint of tightened security in the Berezniki prison, the Perm Regional Human Rights Center reported on Tuesday.
The commission, a civil society organization aimed at overseeing the conditions and treatment in prisons, inspected the prison where Alyokhina is serving her sentence in May.
"After verifying Alyokhina's complaints, the commission members cannot agree with most of them," the commission said in a review. "The facts listed as violations of her rights are actually routine components of a penitentiary establishment's operation, and not the results of the unjustified tightening of the regime or a violation of human rights."
"In fact we were astonished by the unique and privileged conditions provided to Alyokhina in prison. She is allowed to see one of her lawyers or friends from Moscow almost on a daily basis. The meetings can last three or four hours," the commission members said, adding that this arrangement certainly cannot qualify as an "information blackout."
The only negative comment made by the commission concerned the excessive number of inmates in one of the units and the need for a hot water supply in all of the units.
In February 2012, five young women wearing brightly colored balaclavas staged a punk rock prayer in Moscow's Christ the Savior Cathedral. An edited video of their performance was posted on the Internet and caused a public outcry.
In August 2012, the Khamovnichesky District Court in Moscow sentenced Alyokhina and two other Pussy Riot members - Nadezhda Tolokonnikova and Yekaterina Samutsevich - to two years in a prison settlement for hooliganism.
In October 2012, the Moscow City Court changed Samutsevich's verdict to a suspended sentence and released her immediately based on her new attorneys' argument that she had been seized by security guards prior to reaching the altar.
The sentences of Alyokhina and Tolokonnikova were upheld.
In April 2013, the Zubova Polyana District Court in Mordovia rejected Tolokonnikova's request for parole. Alyokhina's request for parole was rejected by the Berezniki court on May 23.
Alyokhina went on a hunger strike which lasted 11 days to protest against the fact the she was not allowed to attend the hearing of her parole request.