US fugitive Snowden can work, travel in Russia – official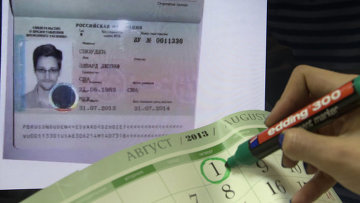 14:04 09/08/2013
MOSCOW, August 9 (RIA Novosti) – Former US intelligence contractor Edward Snowden is legally free to travel around Russia and occupy any non-state job in the country, a senior migration official said on Friday.
Last week Russia granted Snowden - who is wanted by the United States on espionage and theft charges after leaking classified information about the US National Security Agency's surveillance programs - one-year temporary asylum despite protests from the US government.
"In accordance with the law, he has the right to move around Russia's territory, and has the right to work, except, of course, in state offices," Oleg Molodiyevsky, head of the Federal Migration Service's Moscow Region branch, which issued Snowden the temporary asylum document, told reporters Friday.
Molodiyevsky said Snowden is free to go to any Russian region, though he must notify the agency of his intention to do so. He did not say where Snowden is living at the moment.
The head of the migration service in Moscow, Olga Kirillova, said her office had no knowledge of where Snowden was as of Friday.
"I don't have any such information; he is not in Moscow," Kirillova told reporters.