Russian police record 1,000 migration violations in 24 hours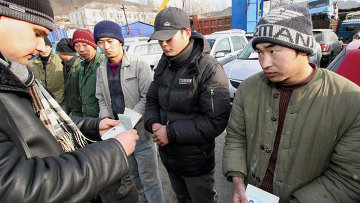 14:44 22/08/2013
MOSCOW, August 22 (RIA Novosti) – The Russian Interior Ministry said Thursday that about 1,000 violations of migration law have been discovered over the past 24 hours as a result of police raids on markets across Russia.
"Police conducted more than 1,700 raids over the past 24 hours," the ministry said in a statement. "As a result, over 4,100 violations were registered, including about 1,000 immigration law violations."
The recent crackdown on immigrants in Russia began after a fracas at a Moscow market in late July, when a policeman was seriously injured in an attack by a worker while trying to detain a suspected sex offender. Russia's markets are often staffed by immigrants from neighboring Central Asian countries.
The Russian economy is heavily dependent on immigrant labor, particularly from Central Asia, but there is widespread opposition within society to increased levels of immigration. There are about 3 million illegal immigrants in the country, according to official estimates.