Russia's top judge injured in car accident in Ghana
Context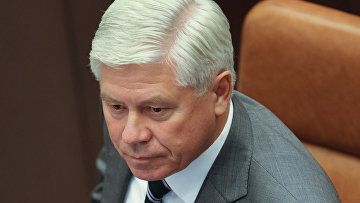 10:16 17/09/2013
MOSCOW, September 17 (RIA Novosti) - The Russian embassy in Ghana is providing all necessary assistance to Chairman of the Russian Supreme Court Vyacheslav Lebedev who has been injured in a road crash, a Russian diplomatic source told RIA Novosti Tuesday.
"Lebedev was involved in a car accident and transported to a military hospital in [Ghana's capital] Accra for medical treatment," the source said.
"The Russian embassy in Ghana is providing him with all necessary assistance," he said.
Lebedev, 70, was on his way to Accra on Monday after a speech at the Ghana Bar Association in the city of Ho when a truck slammed into his convoy, local media earlier reported.
He was airlifted to the 37 Military Hospital in Accra and is being treated at an intensive care unit there, local media said citing government officials. One of his security guards was hospitalized, as well.
Details of Lebedev's injuries are still unclear but a Ghana government statement said he is "in stable condition."
Lebedev arrived in Ghana on September 14 on a four-day visit at the invitation of the African nation's chief justice.