The fate of Greenpeace activists to be decided once seized ship docks in Murmansk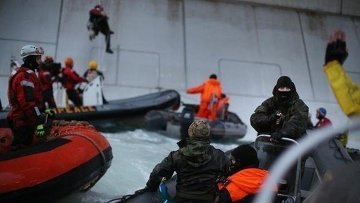 11:30 20/09/2013
MOSCOW, September 20 (RAPSI) - A decision on whether there will be any legal repercussions for Greenpeace activists that endeavored to board a Russian oil rig will be made after their ship - the Arctic Sunrise - arrives in Murmansk, a Federal Security Service (FSB) representative told RIA Novosti Friday
The ship is expected to reach Murmansk in three days.
On September 18, the activists launched five inflatable boats from the Arctic Sunrise at about 4:30am Moscow time and headed for Russian energy giant Gazprom's Prirazlomnaya oil rig, stationed in the Pechora Sea northwest of Russia, Greenpeace said. Two activists scaled the side of the rig with ropes and harnesses and dangled there for several hours.
The Russian Coast Guard intercepted one of the inflatable boats before it reached the platform and arrested two activists, later demanding to board the Arctic Sunrise for an inspection and then firing the warning shots, Greenpeace said.
The FSB reports that all demands to cease and desist were ignored. The Arctic Sunrise was then boarded via helicopter by a special border guard strike force.