Pussy Riot's Tolokonnikova put in solitary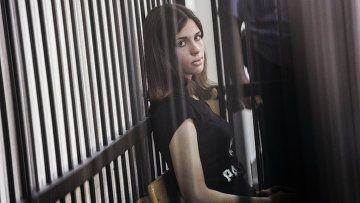 11:07 24/09/2013
NIZHNY NOVGOROD, September 24 (RAPSI) - Pussy Riot member Nadezhda Tolokonnikova has been put in solitary for the duration of inspection after the complaints about threats directed against her, Gennady Morozov, chairman of the regional Public monitoring committee, told RIA Novosti on Tuesday.
This measure has been taken not as a punishment, Morozov said.
On Monday, lawyer Irina Khrunova said that Tolokonnikova has gone on a hunger strike. The attorney also added that Tolokonnikova has written a complaint to the Investigative Committee, in which she claims to be threatened by the inmates and the prison's employees.
In her letter, Tolokonnikova, 23, paints a grim picture of life in her prison colony in Russia's republic of Mordovia, alleging inmates are forced to work 17-hour days, permitted to sleep for only four hours a night, deprived of toilet access, washing facilities and food, and suffer regular beatings sanctioned by the prison authorities.

Prison officials have unchecked authority within the prison camp, and prevent the prisoners from making any complaints through official channels by intimidation and confiscation, according to Tolokonnikova, Lenta.ru reported.
In February 2012, five young women wearing brightly colored balaclavas staged a punk rock prayer in Moscow's Christ the Savior Cathedral. An edited video of their performance was posted on the Internet and caused a public outcry.
In August 2012, the Khamovnichesky District Court in Moscow sentenced Samutsevich and two other Pussy Riot members - Nadezhda Tolokonnikova and Maria Alyokhina - to two years in a prison settlement for hooliganism.
In October 2012, the Moscow City Court changed Samutsevich's verdict to a suspended sentence and released her immediately based on her new attorneys' argument that she had been seized by security guards prior to reaching the altar.
The sentences of Alyokhina and Tolokonnikova were upheld. In April 2013, the Zubova Polyana District Court in Mordovia rejected Tolokonnikova's request for parole. Alyokhina's request for parole was rejected by the Berezniki court on May 23.