Pussy Riot's Tolokonnikova to be transferred to Siberian colony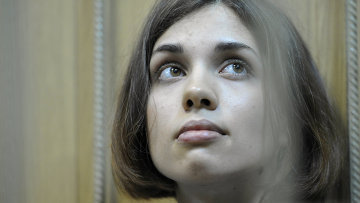 14:50 05/11/2013
MOSCOW, November 5 (RAPSI) - Pussy Riot member Nadezhda Tolokonnikova will be transferred to a penal colony in the Krasnoyarsk Territory (Eastern Siberia), Tolokonnikova's husband Pyotr Verzilov told RAPSI on Tuesday.
"According to a source close to the administration of the Federal Service for Execution of Punishment, Tolokonnikova allegedly will be transferred to a colony in the urban locality of Nizhny Ingash which is 4,400km from Moscow", Verzilov said. Pussy Riot member's lawyer Dmitry Dinze couldn't confirm or deny this information.
On September 23, Tolokonnikova declared a hunger strike and requested the initiation of a criminal case against the deputy warden, who she alleged threatened her with murder. She also complained about the low wages earned by inmates. The Federal Penitentiary Service claimed that the hunger strike was initiated after her demands to be comfortably accommodated in prison were rejected. The Investigative Committee launched a probe into Tolokonnikova's allegations.
Tolokonnikova called off the strike on October, 1. She reportedly gave up her nine-day-long fast because of unspecified health problems.
Investigators have dismissed a request filed by convicted Tolokonnikova to initiate a case against the deputy warden of her Mordovian colony.
On October 18, she declared another hunger strike, and after a few days the Federal Service for Execution of Punishment said that Pussy Riot member will be moved to another prison.
In February 2012, five young women wearing brightly colored balaclavas staged a punk rock prayer in Moscow's Christ the Savior Cathedral. An edited video of their performance was posted on the Internet and caused a public outcry.
In August 2012, the Khamovnichesky District Court in Moscow sentenced Tolokonnikova and two other Pussy Riot members - Maria Alyokhina and Yekaterina Samutsevich - to two years in a prison settlement for hooliganism.
In October 2012, the Moscow City Court changed Samutsevich's verdict to a suspended sentence and released her immediately based on her new attorneys' argument that she had been seized by security guards prior to reaching the altar.
The sentences of Tolokonnikova and Alyokhina were upheld. Alyokhina was transferred last August to serve her prison term to Nizhny Novgorod region while Tolokonnikova remains in Mordovia.