Russian police search major bank's offices after license recall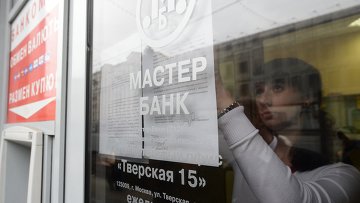 13:57 20/11/2013
MOSCOW, November 20 (RAPSI/RIA Novosti) - The police are now searching the Moscow offices of Master Bank, which license was revoked earlier on Wednesday, in connection with the investigation of an illegal cash out scheme worth 2 billion rubles ($61 million), The Interior Ministry reported on its website.
"Heads of several commercial banks, including Master Bank, devised an illegal cashing out operation using fly-by-night companies and financial enterprises. Interested clients could withdraw their funds using the scheme, for a fee of %7 for each transaction," - the police statement reads.
The Bank of Russia, which issued an operating license recall on Wednesday morning, said in a satement, that Master Bank's license has been revoked for false data reporting, low-quality loans and loss of capital.
Master Bank, founded in 1992, held 47.3 billion rubles ($1.4 billion) in private deposits as of October 1 and 80.9 billion rubles ($2.5 billion) in assets as of November 1, according to RIA Novosti's rating agency. It is one of the country's top five banks by the number of ATMs and bank cards issued.
Master Bank branches in Moscow are currently closed and its ATMs are not functioning due to a "technical error."
Several senior executives and the former vice president for corporate banking at Master Bank were arrested last year for money laundering as part of a large-scale investigation by Russia's Interior Ministry.