Death toll in Volgograd blasts rises to 33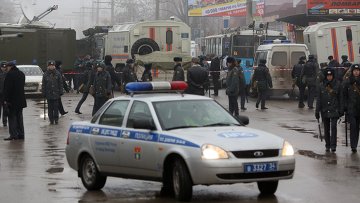 10:28 31/12/2013
MOSCOW, December 31 (RIA Novosti) – The death toll in two suicide bombings in the Russian city of Volgograd climbed to 33 Tuesday morning after one of over a hundred injured victims died overnight, officials said.
The two separate explosions ripped through Volgograd's train station on Sunday and a trolleybus on Monday. Initial reports said 17 people were killed in Sunday's blast, but one of the many injured died last night, the Emergencies Ministry said Tuesday.
Monday's attack was the third in the southern city in the past two months, and comes just weeks before Russia is due to host the 2014 Winter Olympic Games in February in the city of Sochi.
The two attacks left over a hundred injured, including 65 people hospitalized.
No one has yet claimed responsibility for the two latest explosions.