Politkovskaya murder trial attorney's brother detained in UAE - report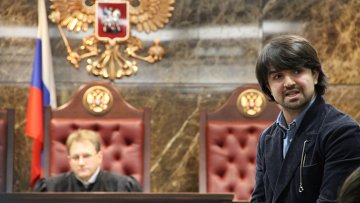 11:05 05/02/2014
MOSCOW, February 5 (RAPSI) - United Arab Emirates police are investigating the robbery of a jewelry store in Dubai in which Muslim Musayev, the brother of prominent Moscow attorney Murad Musayev, is a defendant, Izvestia daily writes on Wednesday.
Musayev and several other suspects were detained late last year as they attempted to transfer some $350,000 out of the UAE. Investigators suspected that the money had come from the sale of stolen jewelry in a theft case involving a store in Dubai.
The suspects resisted arrest, stabbing one of the officers with a knife in the process. Russian diplomats in the UAE are now involved in the case.
According to investigation reports, the suspects include ten immigrants from the North Caucasus. Evidence suggests that Musayev allegedly paid for another suspect's hotel room with his credit card.
Attorney Murad Musayev later flew to Dubai to help his brother. According to Izvestia, the Emirati police will release Muslim Musayev on bail if the amount of claimed financial damages is posted. The family transferred the money to the local prosecutor's office bank account, but Musayev remains under arrest.
The Russian Consulate General in Dubai confirmed the arrest to Izvestia.
Attorney Murad Musayev, who represents defendants in high-profile murder cases, including those of journalist Anna Politkovskaya and retired Colonel Yuri Budanov, is presently under investigation for bribing a witness in the Budanov murder case.
Investigators allege that Musayev bribed two witnesses in January 2013 while preparing the defense of Yusup Temerkhanov, who was subsequently convicted for the murder of Colonel Budanov and sentenced to 15 years in prison. The bribes were allegedly intended to convince witnesses to give false testimonies.
The Investigative Committee also reported that between 2012 and 2013, Musayev tried to coerce the jury to acquit Temerkhanov, and attempted to persuade them to resign from the jury.
Colonel Yuri Budanov was convicted of war crimes in Chechnya in July 2003. A military court found him guilty of abuse of power in connection with the kidnapping and murder of 18-year-old Chechen Elza Kungayeva. He was sentenced to 10 years in prison and deprived of his rank, his medals and the chance to hold official positions for three years after his release.
In January 2009, he was released on parole. In June 2011, Budanov was shot dead as he walked out of a notary office in Moscow. According to investigators, Temerkhanov shot Budanov eight times.
They believe that Temerkhanov planned the murder after his father was killed in Chechnya in 2000. They suspect that he went after Budanov because the colonel had been tried for kidnapping and killing Kungayeva in 2000.