Russian convicts produce $900mln worth of goods annualy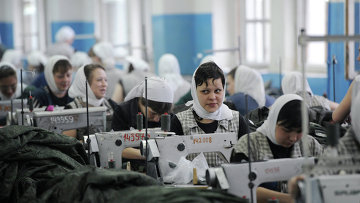 11:35 18/02/2014
MOSCOW, February 18 (RAPSI) - Russian convicts manufacture more than 100,000 kinds of goods worth almost 32 billion rubles ($900 million) annualy, financial director of Federal Penitentiary Service Oleg Korshunov told the press on Tuesday.
According to Korshunov, Federal Penitentiary Service now operates more than a thousand facilities that hold almost 600,000 convicts.
"They work, of course, but not as much as we want them to, unfortunately. Only 30% are assigned to production. However, we are able to produce the amount of goods worth 32 billion rubles annualy," Korshunov said at a press conference held at RIA Novosti.
Earlier it was reported that the penitentiary service's head Gennady Kornienko and CEO of Sberbank German Gref signed a document forming a trade house that would take on retail of goods produced at penitentiary facilities in Russia.
In November 2013, then-jailed Pussy Riot member Nadezhda Tolokonnikova drew attention to the issue of prison-based production after claiming that she was forced to work excruciating hours in prison. The Pussy Riot star claimed that the prison seamstresses were grossly underpaid. The activist said she was paid a monthly salary of 29 rubles in June ($0.88), while the minimum monthly wage in Russia is 5,200 rubles ($160).
Tolokonnikova was jailed for two years in mid-2012 along with two other members of punk band Pussy Riot for performing an anti-Kremlin song in a Christian cathedral.