Kiev police investigate five deaths as protesters storm parliament building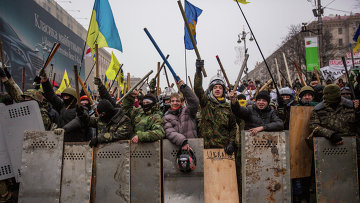 19:29 18/02/2014
MOSCOW, February 18 (RAPSI) – Kiev police are looking into the causes of death of five individuals killed in the center of the Ukrainian capital, RIA Novosti reported Tuesday.
"There are reports of five dead in central Kiev. The city police are looking into the causes of death," the agency quoed spokesperson for Ukraine's Interior Ministry Olga Bilyk as having told.
Large-scale protests resumed in Kiev on Tuesday as an increasingly aggressive crowd stormed the Ukrainian Parliament building, demanding the return of opposition control of the parliament and the presidency, as well as a restoration of the 2004 Constitution.
Particularly aggressive protesters have broken into buildings in the city center, burned tires, and thrown stones at police officers and cars.
Over 50 law enforcement officers were injured as a result of the standoff with rioters so far, according to Bilyk. The police reports that rioters for the first time since mass protests started used real guns.