Billionaire ex-senator detained in Moscow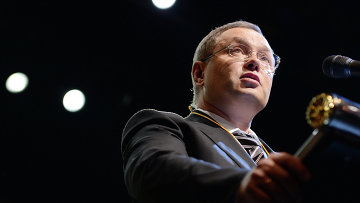 12:52 28/02/2014
MOSCOW, February 28 (RAPSI) – Russia's Investigative Committee announced on Friday that it had detained Gleb Fetisov, former member of the upper house of parliament and former co-owner of My Bank, which lost its license in February.
According to Forbes, Fetisov is also a co-owner of Altimo, a company that inherited Alfa Eco's food and commodities trading assets and now has major holdings in Russia's telecom industry.
Official spokesman for the Investigative Committe Vladimir Markin said that Fetisov was detained under suspicion of embezzling more than 6 billion rubles from the bank, and shifted the responsibility to repay his client's deposits to the Deposit Insurance Agency.
The Russian Central Bank revoked My Bank's license on January 31. Insurance payments to the bank's clients have been tentatively assessed at 6.5 billion rubles ($180.3 million). Fetisov sold his interest in the bank to private individuals who represented the interests of Russian and foreign investors in December 2013.
The Russian media wrote in late February that the Central Bank had filed a request with the Investigative Committee to examine the activity of Fetisov and the other ex-managers of My Bank.
The Central Bank's request mentioned loan agreements that My Bank had signed over the past three years with apparent dummy companies, as well as potentially irretrievable investments in assets and securities.
Almost 30 Russian banks have lost their licenses this year as the regulator seeks to tighten oversight of the country's lenders, and rein in shadow banking activity.