Khodorkovsky receives residence permit in Switzerland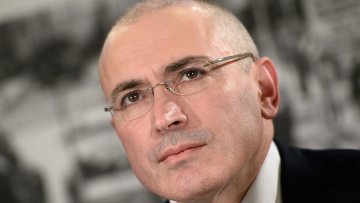 10:11 31/03/2014
PARIS, March 31 (RAPSI) – Mikhail Khodorkovsky, a businessman that formerly headed what was once Russia's largest oil producer Yukos, has been granted residency in Switzerland, the Swiss Telegraphic Agency (ATS) announced Sunday, citing Martin Reichlin, a spokesman for the country's federal migration office.
Reichlin said there were no political reasons to deny the oligarch's application and that the permit was issued for one year with the possibility of renewal in accordance with the legal procedure. Under Swiss immigration laws, Khodorkovsky had to request approval for settling in a specific canton, in this case St. Gallen, where his wife and his two sons are already living.
The canton justified its decision with the substantial tax revenue it expects to gain from Khodorkovsky, Reichlin added. Khodorkovsky's spokesperson said that he would settle in the Rapperswil-Jona municipality within the canton.
Russian President Vladimir Putin signed an executive order releasing Khodorkovsky, who spent 10 years in prison for fraud and embezzlement, on December 20. The same day, the released tycoon went to Berlin on a chartered flight. Switzerland, where his wife Inna is living, granted him a three-month Schengen visa, and Khodorkovsky said he could settle there.
Khodorkovsky has vowed not to return to Russia until the authorities drop the old lawsuits against him that are worth hundreds of millions of dollars.