Cheese factory faces criminal charges for employees bathing in milk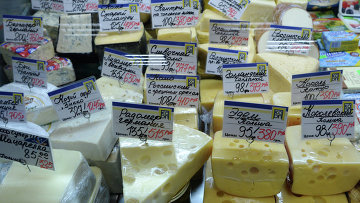 17:20 01/04/2014
MOSCOW, April 1 (RAPSI) - Local prosecutors are probing an Omsk cheese factory after plant employees posted online a photo of themselves bathing in milk, the Omsk Prosecutor General's Office announced Tuesday.
Since mid-2011, the cheese factory has been producing Chechil cheese under the Syroyedovo and Adygeya brands.
"An inquiry will focus on any violations factory officials might have committed under Part 1 of Article 238 of the Criminal Code (production, storage or transportation for sale, or the sale of products and goods, the delivery of products or services that do not comply with consumer safety requirements)," the statement says.
The statement also read that the case materials have been submitted to the court for a ruling on whether plant operations will be suspended. The court hearing was scheduled for Wednesday.
"The Omsk Region Prosecutor's Office will also look into the supervising role of the Federal Service for Supervision of Consumer Protection and Welfare over the factory's compliance with sanitation and epidemiological law," the Prosecutor General's Office adds.
Reports indicate that the service's Omsk Regional Department had issued a temporary production suspension at the plant.