Moldova requests extradition of Russian banker from UK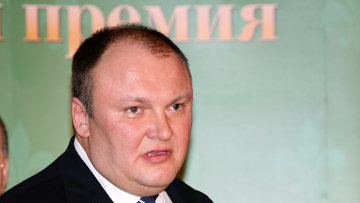 10:54 07/04/2014
MOSCOW, April 7 (RAPSI) – The Moldovan Prosecutor General's office has sent a request to the UK to extradite a wealthy Russian businessman, German Gorbuntsov, on two charges of fraud and suspicion of organizing a contract murder, Kommersant business newspaper writes Monday.
German Gorbuntsov, 46, fled to the UK in 2010. On March 20, 2012, he was returning to his home in a quiet corner of Canary Warf when a Moldovan émigré, presumably Vitalie Proca, fired six bullets into him. Gorbuntsov survived, but since his discharge from the hospital he has been living under 24-hour police protection.
Moldovan police say Proca was a professional hitman, employed by eastern European gangs to eliminate rivals.
Kommersant writes that a Moldovan court issued an arrest warrant for Gorbuntsov in March 2014. At the same time, the Prosecutor General's Office sent an extradition request to the UK. The British police informed the banker about the request but did not detain him, saying that he can come to the police station when his health permits. According to the newspaper, Gorbuntsov is still recuperating from the attack.
The Moldovan Prosecutor General's Office suspects Gorbuntsov of several crimes, including a murder contract against a local businessman, Renat Usatii.
Gorbuntsov owned a controlling interest in a Moldovan bank, Universalbank, between 2008 and 2011. He claimed that in August 2011 he was the victim of a "raid attack," when forged documentation was used to seize his bank from him.
Renat Usatii, the new controlling shareholder, claimed that under Gorbuntsov the bank was laundering $5 to $10 million a day. Soon afterwards Universalbank went bankrupt and Moldova's central bank nullified its license.
Both men deny any wrongdoing.
Another case against Gorbuntsov concerns alleged threats to businessman Vasile Dranga, who claims that Gorbuntsov refused to repay a debt to him. Yet another charge concerns fraud estimated at EUR 1.5 million, which Gorbuntsov allegedly withdrew from the account of a Universalbank client.