Boy's head found in home of newly released Pakistani cannibal brothers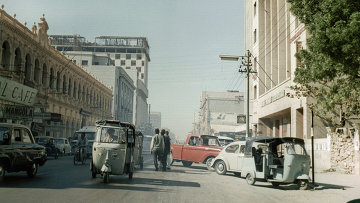 12:54 15/04/2014
MOSCOW, April 15 (RAPSI) - A boy's head was discovered Monday in the home of two Pakistani brothers that were recently released after serving out two-year prison sentences for cannibalism, Pakistani news outlet The Express Tribune reported.
Brothers Arif and Farman, from the small town of Darya Khan in Pakistan's Punjab Province, were arrested in April 2011 after police discovered the already consumed parts of nearly 150 bodies that had been procured from a local cemetery.
A boy's head was discovered during a police raid Monday. Arif was arrested after admitting that he had been eating "human flesh," The Express Tribune reported, citing a local officer.
According to the report, Farman is on the run. Search efforts are underway.
Pakistan reportedly lacks a law prohibiting cannibalism. As such, they were arrested initially pursuant to the Pakistan Penal Code's provision on maintaining public order.
However, they were charged under the Penal Code's provision on malicious acts intended to ourtrage religious feelings. The text of the provision reads: "Whoever, with deliberate and malicious intention of outraging the 'religious feelings of any class of the citizens of Pakistan, by words, either spoken or written, or by visible representations insults the religion or the religious beliefs of that class, shall be punished with imprisonment of either description for a term which may extend to ten years, or with fine, or with both."
The men were sentenced to two years in prison and fined 50,000 Pakistan Rupees (approximately $520) each.
Their release came to the shock and consternation of their small town community.
"I don't care if they're handed over to the Taliban in Afghanistan; I just don't want them here," a local protester named Shahid told The Express Tribune in an earlier story.