Master-Bank executives suspected of $18 mln embezzlement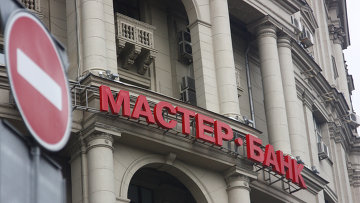 14:06 06/05/2014
MOSCOW, May 6 (RAPSI) – The Deposit Insurance Agency has filed with Russia's Interior Ministry an application relating to the alleged embezzlement of 657 million rubles ($18 million) by Master-Bank executives, according to the agency's statement.
The agency stated that the bank's funds have been embezzled under the pretense of granting credits to individuals.
The Deposit Insurance Agency appointed as the bank's receiver is investigating the bankruptcy circumstances and trying to identify persons guilty of causing Master-Bank to become bankrupt, the statement says.
The Bank of Russia, which issued an operating license recall in November 2013, said in a statement, that Master-Bank's license has been revoked for false data reporting, low-quality loans and loss of capital.
Master-Bank, founded in 1992, held 47.3 billion rubles ($1.3 billion) in private deposits as of October 1 and 80.9 billion rubles ($2.3 billion) in assets as of November 1, according to RIA Novosti's rating agency. It is one of the country's top five banks by the number of ATMs and bank cards issued.
Several senior executives and the former vice president for corporate banking at Master-Bank were arrested last year for money laundering as part of a large-scale investigation by Russia's Interior Ministry.