Russian businessman moves to register "little green men" trademark amid Ukraine's turmoil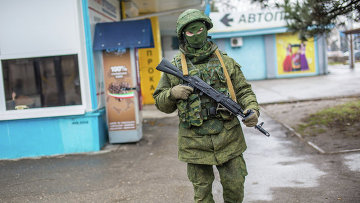 18:01 16/05/2014
MOSCOW, May 16 (RAPSI) – Russian businessman Ignat Ivanov has filed an application with Rospatent, the federal agency in charge of patents and trademarks, seeking to register the "little green men" trademark, according to the agency's record.
In the aftermath of violent clashes in Ukraine's capital Kiev unidentified armed men started to show up in different regions of the country. First they were seen in Crimea, a peninsular whose inhabitants backed the region's independence from Ukraine and accession to Russia on the referendum held in March. The armed men were deemed to be members of the Russian military, but President Vladimir Putin said that they were members of the local "self-defence groups" who resisted the authority of the leadership that came to power in Kiev in February.
Unidentified militants were soon labeled as "little green men" which referred to the color of their uniform. Besides, in Russia these armed men got known as the "polite men" because they didn't speak about their origin and preferred to keep silent.
Notably, Russia's Defence Ministry said earlier in May that different items including T-shirts branded "polite men" would be put up for sale.