Individuals banned from bringing fruit and vegetables from Ukraine into Russia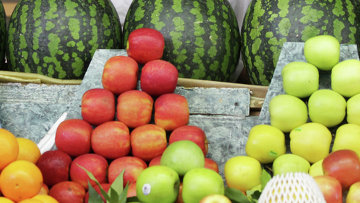 16:34 24/07/2014
MOSCOW, July 24 (RAPSI) – Russia has approved a ban on individuals bringing fruit and vegetables in hand luggage or packages from Ukraine into Russia, said Alexei Alekseyenko, an assistant to the head of the Russian food safety agency, Rosselkhoznadzor.
The restriction will be effective starting July 28, 2014.
This year, the agency prevented 182 attempts to bring potatoes and the saplings of fruit and decorative plants into Russia without phytosanitary certificates. In all, five types of plants that should have been put in quarantine were found in the hand luggage of passengers from Ukraine.
Alekseyenko previously told RIA Novosti that Russia could suspend food imports from Ukraine during Ukraine's European integration talks. The Russian agency has proposed discussing a range of issues with the State Veterinary and Phytosanitary Service of Ukraine. Ukraine has not responded.
Ukraine signed an agreement on association and a deep and comprehensive free trade area with the EU on June 27. During a trilateral meeting with Russia in July, the EU admitted that the agreement could entail economic risks for Russian-Ukrainian relations.