Avakov assassination suspect is police officer – Ukrainian Security Service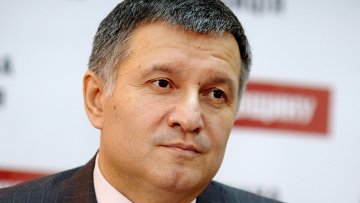 12:47 01/08/2014
KIEV, August 1 (RAPSI) – Ukraine's security service, SBU, says the man who has been arrested on suspicion of planning to assassinate Interior Minister Arsen Avakov served in a special Kiev police unit, RIA Novosti has announced.
Previous reports said the suspect was a member of the National Guard.
On Thursday, the SBU announced the arrest of a National Guard officer on the suspicion of helping the self-defense fighters and plotting the assassination of Arsen Avakov. The National Guard refuted this report.
"On July 29, the Security Service of Ukraine arrested a Ukrainian citizen, who has been identified only as "M," an officer of a special Kiev police unit dispatched to the area of the antiterrorist operation in the line of duty, whose criminal activity there contributed to the operation of the terrorists," the SBU said in a statement.
Avakov's adviser Anton Gerashchenko said on Facebook that the arrested person was a police major who informed the self-defense forces about the transit of the Ukrainian military equipment through roadblocks and also helped plot the interior minister's assassination. He said the arrested suspect's cover name was BonAqua.
The assassination was planned for July 7-9, when Avakov was in the special operations area in eastern Ukraine. Ukrainian law enforcement authorities said they had learned about those suspected of involvement in the planned assassination and arrested several groups, each consisting of several people. One of the group leaders was reportedly killed during the arrest.