Four Russian lawmakers banned from leaving the country due to debt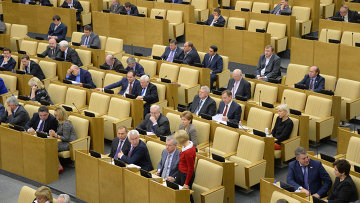 11:01 11/08/2014
MOSCOW, August (RAPSI) - The Federal Bailiff Service has banned four State Duma lawmakers, members of A Just Russia, from leaving Russia due to debt, Izvestia reports this Monday.
State Duma Speaker Sergei Naryshkin received enforcement orders for four representatives of A Just Russia, Oleg Mikheyev, Ilya Ponomaryov, Vladimir Parakhin and Alexander Chetverikov. The bailiff service requested that the Speaker provide information on the deputies' business trips as well as on their crossing the Russian border for work related issues, according to documents acquired by Izvestia.
The State Duma Committee on Protocol clarified that if an enforcement order arrives, the State Duma's accounting department takes it as an order and may withhold up to half of a deputy's salary to pay a debt. Regarding restrictions on leaving the country, the same laws apply to parliament members as to regular debtors.
Reports that several high-ranking public officials had accumulated debt started circulating in early June. The newspaper claims that the four public officials are in debt for over 10.4 billion rubles ($285.7 mn). Mikheyev has the largest debt, some 5.4 bn rubles ($149 million), according to Izvestia.
Chetverikov owes 23.2 mn rubles ($637,000). Parakhin and Ponomaryov owe 11.7 mn ($321,400) and 2.7 mn ($74,170) rubles respectively. The claims against Ilya Ponomaryov include the reimbursement of the funds earned for giving lectures at Skolkovo. A year ago, the Gagarinsky District Court of Moscow ordered that Ponomaryov pay 2.7 mn rubles to the Skolkovo Foundation for unreasonably overpriced lectures. Last spring, the deputy openly refused to pay the debt.