MEP Rebecca Harms denied entry to Russia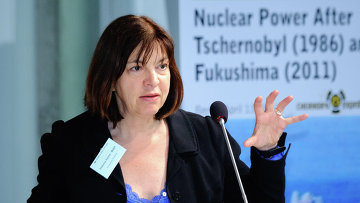 12:10 26/09/2014
MOSCOW, September 26 (RAPSI) – Rebecca Harms, Green Party leader in the European Parliament, wrote on her Facebook page on Friday that she had been denied entry to Russia.
She planned to attend the trial of arrested Ukrainian pilot Nadiya Savchenko.
"Today I was planning to travel to Moscow, in order to join the next hearing in the Savchenko case on 26th September. However, despite my diplomatic passport, I was denied entry into Russia. I was told to take the next airplane back and any entry into Russia would be considered a criminal act. So I will be arriving late in Brussels tonight again," Harms said on Facebook.
Ivan Soltanovsky, head of the Department of European Cooperation at Russia's Foreign Ministry, told RIA Novosti on Thursday that Russia was considering denying entry to European politicians in response to the anti-Russian sanctions approved in Brussels.
The Basmanny District Court in Moscow moved hearing of the complaint filed by Savchenko's attorney against the decision to send her client to a mental hospital for a comprehensive psychiatric examination to October 13.
Nadiya Savchenko, 33, is a Ukrainian pilot who called in artillery fire via radio. Russia's Investigative Committee claims that she is responsible for the death of Vesti correspondent Igor Kornelyuk and sound engineer Anton Voloshin, who were killed on June 17 in a mortar attack in the vicinity of Metallist and Mirny, small towns near Luhansk in eastern Ukraine.
She was seized by anti-Maidan fighters in June but, according to the self-defense forces in the Luhansk region, managed to escape. Later she was detained in Russia, which she allegedly entered disguised as a refugee, and charged with complicity in the murder of the Russian journalists.
Savchenko and her defense argue that she was kidnapped in Ukraine and forcibly transported to Russia in handcuffs and with a sack over her head. Her attorneys also say that she was taken prisoner 1.5 hours before the journalists' death.