Russia's Deposit Insurance Agency pays $553 mln to Crimean residents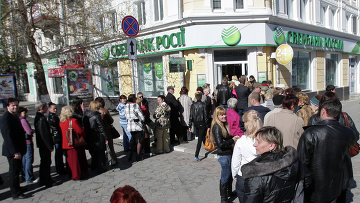 13:53 03/10/2014
YALTA, October 3 (RAPSI) - Russia's Deposit Insurance Agency has paid 22 billion rubles ($553 million) to over 200,000 residents of the Republic of Crimea who had accounts at Ukrainian banks, ITAR-TASS reports on Friday, citing deputy general director of the agency Andrei Melnikov.
"We started accepting the first applications on April 23 and have received around 300,000 applications since then. Over 200,000 people have received compensations, a total of 22 billion rubles," the agency quoted Melnikov as having said.
The Deposit Insurance Agency Director said that the agency involved several banks, the Russian National Commercial Bank, the Black Sea Bank of Reconstruction and Development and Genbank, in restoring trustworthiness of the banks that will further establish their presence in Crimea.
Compensation will be paid to the depositors of 40 Ukrainian banks. The major ones include Privatbank and Oschadbank.
Crimea became a Russian region after a referendum on March 16 in which the majority of the region's population voted to join Russia.