Russian Central Bank closes three Ukrainian banks in Crimea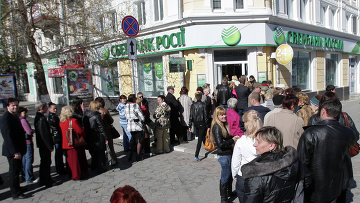 12:01 26/11/2014
MOSCOW, November 26 (RAPSI) - The Central Bank of Russia stopped the operations of three Ukrainian banks in Crimea and Sevastopol, including Neos Bank, Credit Agricole Bank and Zoloti Vorota Bank, RIA Novosti reported on Wednesday.
The decision to permanently close the branches of the three banks was based purely on the intention to protect the interests of depositors and customers whose legal rights were allegedly violated when the three banks suspended operations at their branch offices in Crimea and Sevastopol, the Central Bank reports.
Compensation will be paid by the Crimean Foundation for the Protection of Bank Depositors that is assuming the responsibility for the rights and claims of the depositors. Civil claims against the involved banks, including those submitted by the protection foundation, will be heard, if necessary, by competent judicial authorities under the standard legal procedure.
Ukrainian banks began leaving Crimea after the peninsula reunited with Russia last March.