Russian mass media warned against religious hatred amid cartoon controversy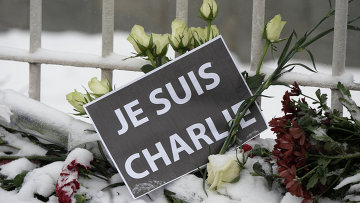 12:10 16/01/2015
MOSCOW, January 16 (RAPSI) – The publication of offensive cartoons in the media could be qualified as violation of the laws on the media and on combating extremism, the Russian telecommunications authority, Roskomnadzor, said in a statement posted on its website on Friday.
According to the statement, the publication of derisive cartoons can be qualified as offending and denigrating the religious beliefs of others and as fostering ethnic or religious strife, which is in direct violation of the laws on the media and on combating extremism.
Publishing cartoons that are offending to the religious feelings of others is contrary to the ethical and moral standards, the regulator said in its statement.
Cartoons of religious leaders and jokes on religious issues are major elements of the French satirical weekly Charlie Hebdo's editorial policy. It has published cartoons, some of them highly offending offensive and derisive, of Catholic cardinals, the Pope, the leaders of various countries, including a French president, and even Jesus. But it touched a particularly painful nerve with its Prophet Muhammad cartoons.
Charlie Hebdo's editorial office has been attacked several times since 2006. The latest attack happened on January 7, when two gunmen forced their way into the magazine's editorial office and opened fire, killing 12 people and injuring 11.
The perpetrators killed several visitors and two policemen. Most of the victims worked at the magazine, including editors and nationally famous cartoonists Stéphane Charbonnier ("Charb"), Jean Cabut ("Cabu") and Georges Wolinski.
The terrorist attack killed the largest number of people in France in the past 50 years. The January 14 issue of Charlie Hebdo came out with a caricature of the Prophet Mohammed on its cover. The issue was the first to be printed after the tragic events.
This week, the Kamchatka department of Roskomnadzor sent letters to the local print media to inform them of the inadmissibility of publishing any cartoons of religious leaders.