Russian Football Union defaults on $2.8 mln debt owed to Capello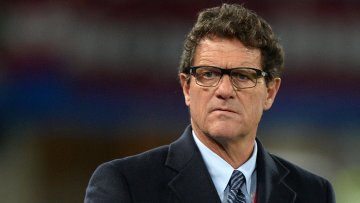 12:08 19/01/2015
MOSCOW, January 19 (RAPSI) – The Russian Football Union (RFU) failed to comply with an order issued by the Federal Service of Labor and Employment, or Rostrud, to pay 181.5 million rubles ($2.8 mln) owed to national team coach Fabio Capello, R-Sport news agency repored on Monday, citing vice president of the RFU, Nikita Simonyan.
Capello and Oreste Cinquini, the team's general manager, have not been paid for seven months. Initially, Rostrud instructed the RFU to pay the arrears by December 19, but later postponed the deadline for a month. Failure to comply with Rostrud instructions entails a fine and the suspension of the RFU manager responsible for salary payment for a period varying from six months to three years.
The RFU would be obliged to dismiss the suspended individual, who could be prohibited by a court from holding managerial positions at the RFU or any other state agency for the duration of the suspension period.
Capello won four Italian Series A titles as a player for Juventus and AC Milan in the 1970s and five titles as a manager with Milan and AS Roma, as well as two with Juventus that were later stripped from the Turin club over a corruption scandal.
He won the Champions League with Milan in 1994 and two Spanish league titles with Real Madrid before venturing into international management with England in 2007.
Capello took charge of Russia's national football team in 2012 and signed a four-year contract extension in January 2014, taking him through to the World Cup in 2018, when he will be 71 years old.