Russia's health ministry pledges not to disclose school drug test results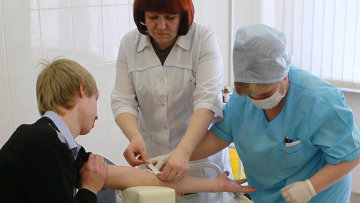 15:58 30/01/2015
MOSCOW, January 30 (RAPSI) – Russia's Health Ministry will guarantee the confidentiality of the results of mandatory drug testing in public schools, Interfax reported on Friday, citing Tatyana Klimenko, an aide to the health minister.
She said the results of testing school and university students for drug use, to be conducted as part of routine medical check-ups, would be strictly confidential. "Only the doctor who conducts the check-up and the doctor who will provide medical assistance to drug users would have access to this information," Klimenko said.
She said that this information will be held confidential from the staff of outpatient clinics and schools.
In December 2014, Irina Yarovaya, head of the State Duma Committee on Security and on Combating Corruption, proposed making the drug testing procedure more considerate of school students.
Yarovaya said that the results of drug tests "must only be available at medical establishments, not at schools," which would calm the fear that someone would use this information malevolently."
Head of the Moscow Helsinki Group Ludmilla Alexeeva has protested against drug testing at schools, which she described as humiliating.
Earlier, MP Irina Chirkova from the State Duma Committee for the Family, Women and Children submitted a bill to the lower house to introduce obligatory drug testing at schools.
An explanatory note to the bill says that teenagers would be required to undergo testing in case of visible signs of drug intoxication. One of the teenager's parents would be informed about the test. Its results would be confidential.